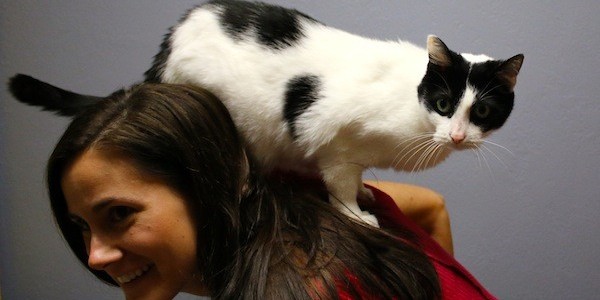 Homeward Bound Pet Shelter has nominated Jeanette Skaluba as Hill's Pet Nutrition's Shelter Hero. The Hill's Shelter Heroes contest aims to promote pet adoption by recognizing five shelter heroes throughout the United States. Each of the five winning heroes will receive a donation of $10,000 for their shelter.
When shelter manager Linda Clary heard about the contest, she knew Jeanette Skaluba was the clear nominee. Jeanette devotes a large portion of her time to volunteering at Homeward Bound. Not only does she work with individual animals (especially adult cats) and assist with regular volunteer events, but she has taken the initiative to promote often overlooked, adoptable pets. She assists in managing Homeward Bound Pet Shelters social media, creates promotional videos and she even created yoga4cats.
Yoga4cats is a fundraiser Skaluba began as a way to combine two of her favorite things: yoga and finding homes for shelter cats. Since the first yoga4cats in June 2015, the event has gone viral. As of March 22, 2016, the yoga4cats video Jeanette made covering the event has over 245,000 views.
The money Skaluba raised from yoga4cats has been used for the Catification project, which has provided the cat rooms with new windows, paint, and climbing spaces.
The nomination period for the Hill's Shelter Heroes contest just ended. Hill's Pet Nutrition is currently choosing ten nominees to continue to the voting round. The ten nominees will be announced soon and voting begins March 31. Between March 31 and April 10, the public can vote for their favorite shelter hero via Facebook or Twitter. The five finalists who have the largest number of votes when voting closes will each win $10,000 for the shelters they represent.
You can view Homeward Bound's nomination video on Homeward Bounds Facebook page, or you can view Skaluba's videos (including the yoga4cats video) on the Homeward Bound YouTube page. We encourage you to support Skaluba and Homeward Bound by posting on social media using the hashtag #HillsShelterHeroes, while we keep you updated on the voting process!